Justice Reform Starts With Us
Event Date: 
Thursday, March 8 -

5:30 pm

to

8:30 pm
Location: 
Knuth Hall, Creative Arts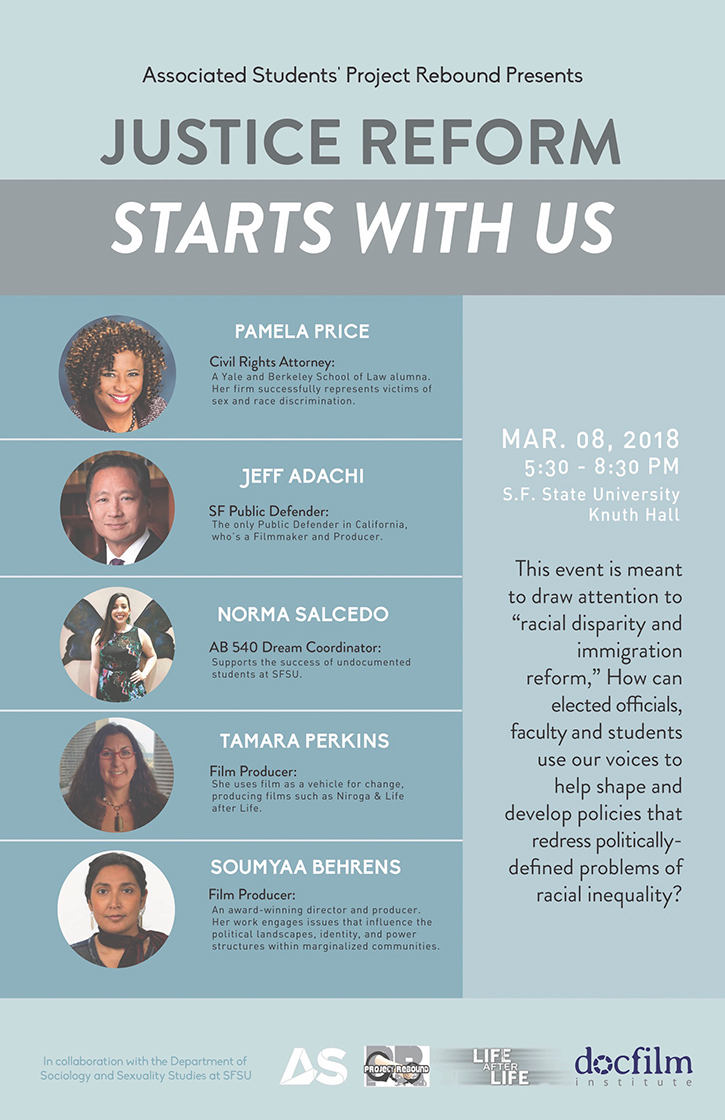 San Francisco State University's Project Rebound program, in partnership with the Doc Film Institute, and the Department of Sociology & Sexual Studies at SF State invite you to a public forum entitled Justice Reform Starts With Us.
The American criminal justice system is highly politicized, and one of the by-products of this is that stark racial disparities exist in terms of who is served justice, and how this justice is served. Although politics largely defines American criminal justice, little is known about the political and social processes of remedying injustice in the criminal justice system via social activism, documentary films and criminal processing. This forum is being convened to draw attention specifically to "racial disparity and immigration reform," showing how elected officials, faculty, students and voters can offer their voices to help shape and develop policies that redress what are often politically-defined problems of inequality.
We hope this forum will highlight how the issues discussed can impact us all in some way, regardless of our race, ethnicity, sexual orientation, belief system or politics. Overall, our goal is to begin finding solutions, while adding substance and clarity to our understanding of the issues.
This forum has been designed to give everyone in attendance a platform to voice their opinions in a way that is peaceful, constructive, and unharmful.
SPEAKERS
Jeff Adachi - Public Defender, City and County of San Francisco
Soumyaa Behrens - Director, DocFilm Institute, San Francisco State University
Tamara Perkins - Filmmaker and Producer
Pamela Price - Civil Rights Attorney, and 2018 Candidate for the Alameda County District Attorney's Office
Norma Salcedo - AB 540 Dream Coordinator at San Francisco State University 
Tickets are FREE and available at eventbrite.
REFRESHMENTS WILL BE SERVED AT 5:30PM IN THE VENUE ADJACENT TO KNUTH HALL. THE PROGRAM BEGINS AT 5:30PM.
E-mail: 
cpenn@asi.sfsu.edu