CALL FOR PAPERS AND PRESENTATIONS: MEDIAS MIGRATIONS MOVEMENTS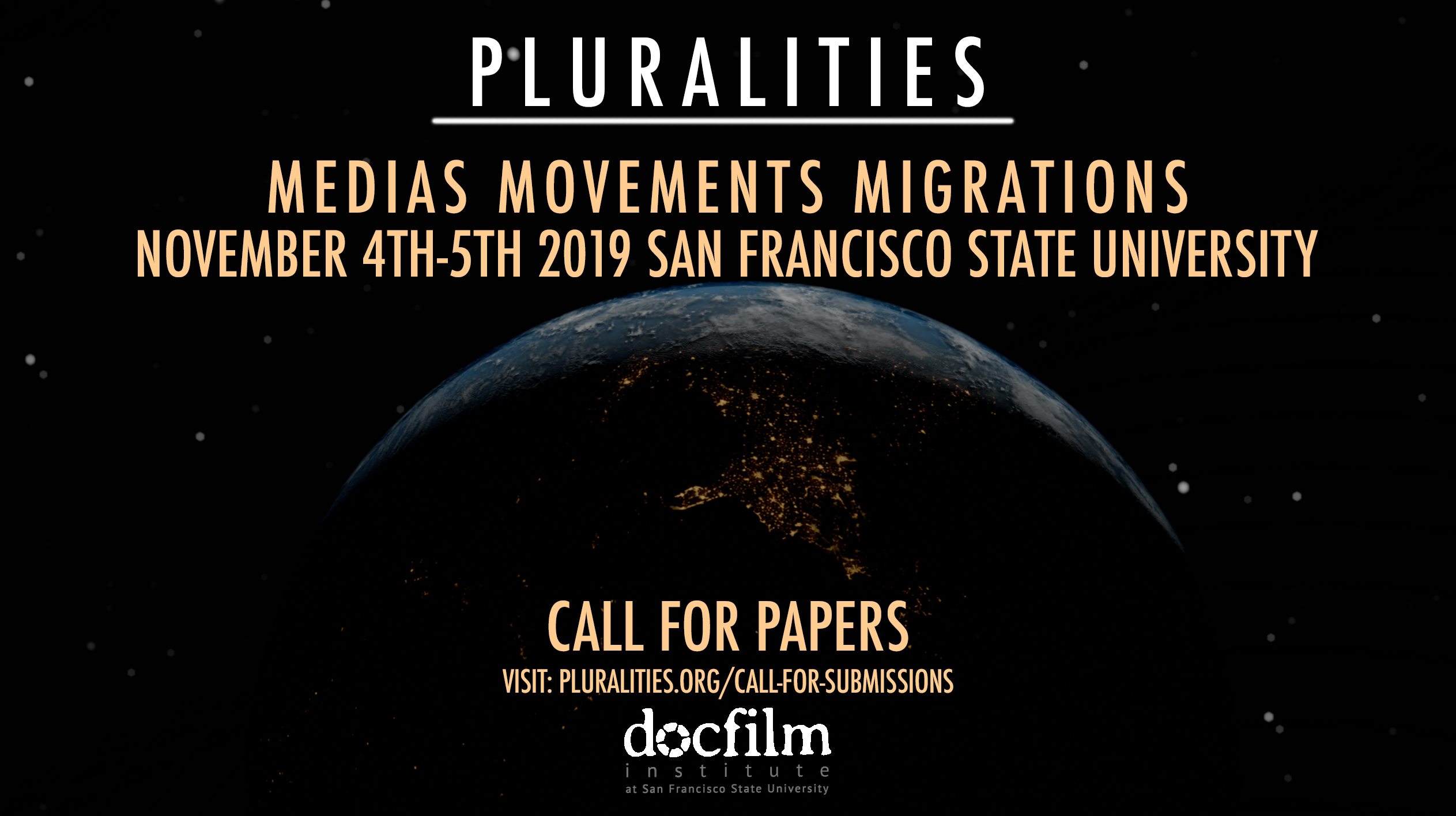 Call For Papers and Presentations: MEDIAS    MIGRATIONS    MOVEMENTS
Fall 2019 (November 4th-5th) @ San Fransisco State University.

Two Day Conference to be held on the San Francisco State University Campus. Free registration and open to the public. Presenters are responsible for their travel and housing to attend the event.

Keynote Announcement: HAMID NAFICY

Hamid Naficy is a leading authority in cultural studies of diaspora, exile, postcolonial cinemas and media, Iranian and Middle Eastern cinemas and media with a focus on documentary and ethnographic cinemas. He has published nearly a dozen books (some award-winning) and scores of book chapters and journal articles. In addition, he has lectured widely, nationally and internationally, and his works have been cited and reprinted extensively and translated into many languages. Naficy has also produced many educational films and experimental videos and participated in major international film festivals, curated film series, and initiated the annual Iranian film festivals in Los Angeles in 1990 and Houston in 1992.

Abstracts for papers, presentations, and projects for the Emergent Media Arcade are welcome. Papers and presentations may be singular or submitted as a constituted panel. We are interested in explorations that traverse one or more of this years' themes of Medias, Migrations, and Movements. We especially welcome works and scholarship that are interweaving form and practice with other avenues of documentation, including activism, installation, speculation, and interdisciplinary modes, approaches, and collaborations.



Possible Topics Include:

~Cinemas of Exile

~Diasporic Interventions

~Radical Interventions in Post Colonial Cinemas

~Documentary Forms as Political Actions

~The role of Emerging Media in Nonfiction Discourse

~Global Manifesto Cinemas

~Documentations of Global Migrations

~The Archive as a Historical Intervention

~Speculative Documentary

~Media as a structure for movement and migration

~Accidental migrations, Forced Migrations

~Movement of the image in relationship to the movements of people

~The evolution of the Documentary Form

~Ethics of images in Ethnographic, Diasporic and/or Political Film Creation/Scholarship/Distribution

~Circulation and Access of Diasporic and Political Cinemas

~Industry Considerations in the US and International landscapes

~Any other intervention into these topics not listed here are welcome-this list is not exclusive!



Paper Submissions:
Abstract of no more than 500 words with three bibliographic sources.

Bio of no more than 250 words, noting academic, industry affiliation or positionality in the community.

Full essays may be submitted for consideration. Please note if the essay has been published/presented before and where. Full essays should be able to present in a 20 minutes slot.
Project Submissions:
Project submissions include creative works, video or audio essays, interactive media, multi-modal media, VR, AR, and any work that does not fit under the paper submission category.

Please include any relevant links to the project.

Project description of 1-2 pages indicating whether this is a presentation and/or could be made available in our EMERGENT MEDIA ARCADE.

Bio of no more than 250 words, noting academic or industry affiliation and/or positionality in the community.
DEADLINE TO SUBMIT: AUGUST 31st 2019
The EMERGENT MEDIA ARCADE will host a series of experiential media projects available to conference goers throughout both seminar days. If selected for the ARCADE, you are not required to be present; however, if presenting on a panel, your presence is required for programming.