DocFilm joins the Alexander String Quartet in Poland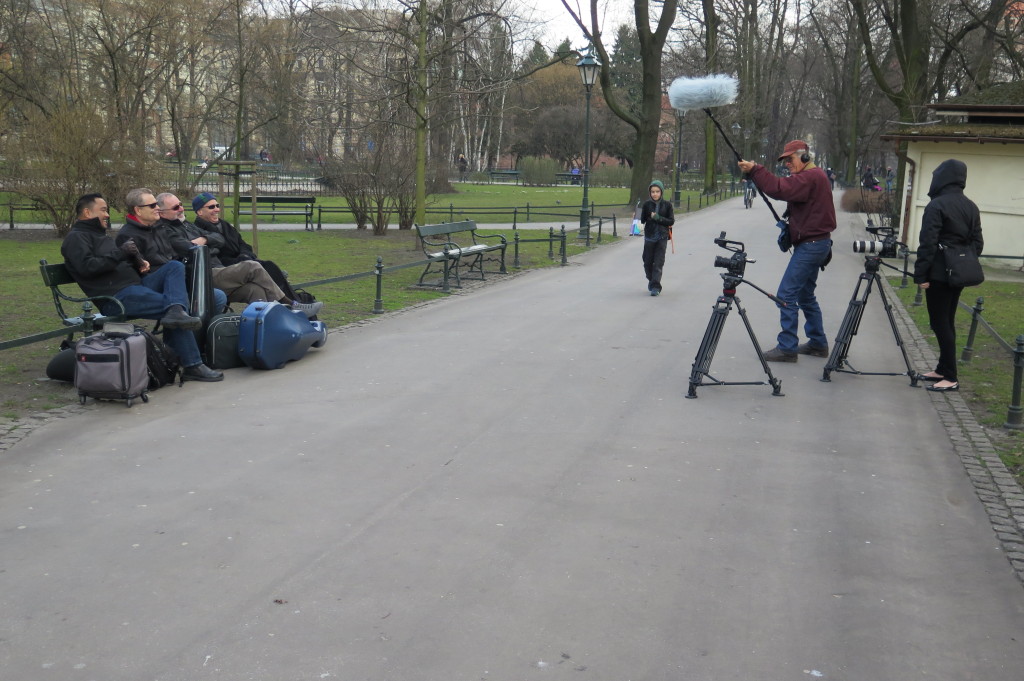 This Spring the DocFilm Institute sent a small crew to Poland for two weeks to make a film about the Alexander String Quartet (ASQ), in residence at San Francisco State University. The team included Hannah Anderson (LCA Communications Photographer/Filmmaker), Warren Haack (Filmmaker & Cinema Facilities Manager) and myself (Associate Director of DocFilm). Going on a trip with someone is always an eye opening experience, and traveling with the ASQ provided many moments to learn about what it means to be a member in a touring ensemble. From Sandy the cellist needing to purchase an airline seat for his cello, to the process of picking the restaurant for the night, it was interesting (to say the least) to watch each of their peculiarities unfold. It became even more interesting to watch how each member of the group had come to accept one another's quirks for the greater good of musicianship and sharing their music, with one another and others.
From the wonderful people we met, to the beautiful music performances we filmed and recorded, there were endless opportunities to learn about Poland. We witnessed its rich yet complicated history, and met fascinating people that inhabit its spaces. These moments served as inspiration each time we turned on the camera and sound recorder. Following ASQ throughout their tour, we stopped in Krakow, Rzsesow, Gdansk and Warsaw, with each city being host to the Beethoven Music Festival. These stops allowed us to cross through large parts of Poland. Each city offered its own unique texture and these landscapes play a role in the film we are creating.
We had many planning meetings with ASQ about what a two-week tour of this level normally entails. During these meetings, we got a faint glimpse into the dynamic life of a string quartet musician, and more importantly, how these four individuals interact with one another under these circumstances. This was a guiding question for us as we considered how to approach filming each day. What does it really mean to be a part of a string quartet?
While on tour with ASQ, the answer to this question became more layered and complex, and great substance for the film. Beginning with their relationships, it was an experience in itself to watch (and film) how they navigated around one another while on tour. There is a shorthand form of communication between the members, much like that between close siblings. It was obvious this shorthand was integral to accomplish what they do with one another as musicians and performers.
This visceral ability to communicate their ideas and music seems to come from their many years together and lends itself to their roles as educators. While on tour, ASQ conducted master classes at conservatories in Krakow and Gdansk. These classes illustrated how passionate they are about their music and the history from which it comes. Each member of the quartet has their own unique way of passing on lessons to young musicians but, at the same time, they seem to be speaking together with a unified voice.
Maybe that is the crux of what it takes to be a successful quartet: strong individuals that can come together and blend their voices to make beautiful music together.  We plan to unlock the mystery of these highly accomplished musicians through this film.  Currently in post-production, stay tuned for info on a screening this Fall.  Many thanks to the generous members of the ASQ, Zak, Fred, Paul and Sandy, for letting us into their world.
The post DocFilm joins the Alexander String Quartet in Poland appeared first on DocFilm Institute.