DocFilm and Poetry Center collaborate to Archive Readings
Sunday, September 20, 2015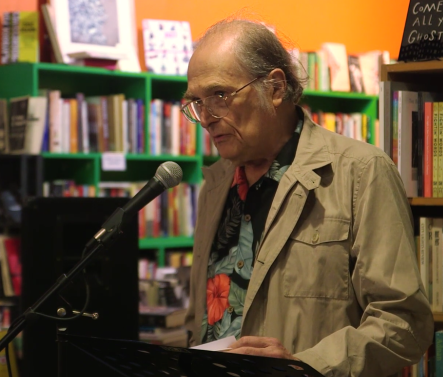 Eight Occasions, September–October 2015, Part 1
Posted on November 23, 2015 | Categories Poetry Center Digital Archive, Poetry Center Reading Series, poetry on video
"I think we can… you can sort of talk generally about the forms of life: birth and death, and need for sustenance, and language, and breathing and all that. But nobody has the right to say how it is for anybody else. That's a luxury that no one has."
Paul Ebenkamp, October 1, 2015
The first eight Poetry Center programs that took place this Fall 2015 are each now available as professionally recorded streaming video documents (with downloadable audio files) at Poetry Center Digital Archive. This is the first time in the 62-year history of The Poetry Center that we've been able to make what we do so readily available to people beyond the live audience, present in the room. The work is posted online quickly, it can be seen and/or heard by anyone on the planet with an internet connection, it comes at no direct cost to the viewer, and it looks and sounds great.
Here's how our new archival situation works. We've initiated an arrangement with the Documentary Film Institute (a.k.a. DocFilm) at SF State, and  we've hired one of their best graduate students in Cinema, Russ Kiel, out of Atlanta, who's becoming known within the program as a valued cinematographer. Russ is charged with recording each video, working with sound correction and minimal editing, selecting brief video "highlights" from each program (clips anywhere from 30 seconds to 2 minutes), saving archive-quality uncompressed video files plus an MP4 version readied for streaming, preparing comparable audio files, and forwarding each finished program to our partners at DIVA — where some fifteen collections based at San Francisco State are housed and made publicly accessible online. Meanwhile in the background, Poetry Center staff are generating catalog notes on each program to accompany the new video and audio documents. We've been working with Kimberly Gomes, graduate student in Creative Writing, our Associate Director Elise Ficarra, and myself, to write and edit helpful and accurate notes: metadata. The video highlights, with descriptive captions, get posted at DocFilm's Vimeo page (accessible in sequence at our Vimeo channel: Poetry Center Video Highlights) and are publicized via the Poetry Center Facebook page. The finished programs are posted, under the heading Current Season, at our dedicated online collection, Poetry Center Digital Archive.
As of November 22, just two months after our initial program went online, our first eight videos have been played 1,757 times. Just under 100 people have downloaded audio versions of these eight programs. I like the audio option: it's a fairly unique aspect of our Digital Archive. Audio's easy to play on earbuds or in the car, the files are small enough to keep, and — since for everything we post online we've secured Creative Commons Atrribution-NonCommercial-ShareAlike licensing — people can do pretty much what they like with the audio: remix it, play it on non-commercial radio, create animations, splice it into "mixtapes," etc. As long as you don't start charging anybody for it, the audio is free to use and re-use. So is the video: show it in classes, at parties, impress your friends.
A quick view of the first four of these eight programs, eight occasions:
We're presently in what might be the third wave of publications from John Wieners (1934–2002): the first of his initial books, a fairly short period from the late 1950s really to the mid-1970s; the second, of Raymond Foye's excellent and substantial editions of selected poems and "outtakes" for Black Sparrow Press during the mid-to-late 1980s, during Wieners' later life; and this present and posthumous period, with several volumes of notebooks having now appeared, letters and a biography in preparation, and a new, and third, selection of "selected poems" in hand. Robert Dewhurst, presently of Los Angeles, where he moved after completing graduate studies at SUNY Buffalo, and Michael Seth Stewart, having moved this summer back to his home state of Alabama on completion of a doctorate at CUNY Graduate Center in Manhattan (where he worked with Ammiel Alcalay's Lost & Found program), are editors, respectively, of Supplication: Selected Poems of John Wieners (with Joshua Beckman and CAConrad, from Wave Books, 2015) and Stars Seen In Person: Selected Journals of John Wieners (City Lights Books, 2015). As there was a celebratory evening at City Lights Bookstore in early September, we thought it made sense to invite the two of them to talk with an audience, and one another, about the work they are involved in around John Wieners, his life and writings. Here are clips of Dewhurst reading and introducing Wieners' poem "Viva," and of Stewart reading an excerpt from one of his notebooks.
A terrific feature of this program is the inclusion of the outtakes from Richard O. Moore's 1965 "USA: Poetry" public television documentary featuring John Wieners in San Francisco along with Robert Duncan. Since these are outtakes we get to see what's usually kept under wraps, rescued here from the proverbial "cutting-room floor," all that falls outside the original 15-minute public TV program. And, after the video within the video, there's a handsome complement of poets in the house, just to round things out.
Once I asked David how he got into Kabbalah and Jewish mysticism. It's a great story, and if I can paraphrase, it goes something like this: "I was working at the Discovery Bookshop on Columbus Avenue, and every week Robert Duncan and Jess would stop by after doing their grocery shopping in Chinatown. I would give them the 'love discount.' One day Robert went into the bathroom, and came out raving: 'Who left this book in a shithouse?! And it's a library book!! It needs to be in circulation!' I thought, since Robert was so excited, I'd better check this out. It was Gershom Scholem's Major Trends in Jewish Mysticism. I'd always avoided Jewish subjects. And I hated it. Though gradually something started to take, and then it blossomed. Jack Hirschman was on a similar path, and pretty soon I was doing Tree [magazine], Jack was translating everything, and there I was. I like to read everything I can on a subject. It's what I've always done."
Brilliant anthologist, autodidact, jazz head, musician, teacher, poet, David Meltzer reads from and discusses the newly revised and reissued edition of his book Two-Way Mirror: A Poetry Notebook (City Lights Books, 2015), a kind of "book of books" culled from avid reading, mostly in the deep shelves of UC Berkeley's Dow Library, from the days before they buried it under the landscape, when ordinary folks could still roam the stacks at will and stumble on the unfound. We also convinced him to read some poems from his early book Harps (Oyez, 1975), and David's Copy: The Selected Poems of David Meltzer (ed. Michael Rothenberg, Penguin Poets, 2005). Clips include the opening and a later excerpt from Two-Way Mirror, and a reading of "Lamentation / for Jack Spicer," an on-the-spot eulogy from 1965.
Katy Bohinc, late of Washington, DC, and presently living in New York City, where she works on Tender Buttons Books, rents a room in poet Lee Ann Brown and actor Tony Torn's house (late great actress Geraldine Page's house, Tony being the son of GP and Rip Torn), and otherwise does things with math involving marketing, has written an outrageous and beautiful book. More or less on a dare, she started concocting a wild series of love letters to esteemed French philosopher Alain Badiou, taking up the two-thousand year agon between poets and philosophers, insisting in her writing that if there wasn't any space for conversation here, well, there had better be, either poet and philosopher could learn to listen to each other, or else! Taking the work a step further, she sent Badiou her letters. And Badiou wrote back. They met a few times, had dinner, and now they're scheduled to present an evening together in New York, where they'll be hosted by Verso Books, one of Badiou's publishers. The philosopher is preparing to present a formal response, before a live audience, to the poet's book, Dear Alain (Tender Buttons, 2014).
In advance of that meeting, Katy Bohinc had the chance to share some stage time here, at The Poetry Center, with Paul Ebenkamp. This is the kind of happy match (and neither knew each other before this date) that works to everyone's favor. Paul lives in Berkeley, where with Andrew Kenower he runs the long standing Woolsey Heights reading series out of their house, a few blocks West of the Ashby BART station. He edits books, writes, makes music ("noise music"), and does administrative work at St. Mary's College in Orinda. His first book, The Louder the Room the Darker the Screen (Timeless, Infinite Light, 2015), is exceptionally unusual work, delivered in a focused, intense manner, and aimed rather than at references and marks of knowledge at, as he says here, "a different kind of process of learning and identification." The conversation segment of these readings has been, I swear, pretty remarkable almost always and for some time, though the 32 minutes Paul and Katy share in public together after their readings is a stand-out. As a bit of evidence, here's Paul Ebenkamp musing on a question from the audience:
"And we all have so much in common. It's unbelievable, that we're just sitting here and basically understanding the same thing that's happening, and that this all holds together somehow? It's a really incredible situation. So it's a really interesting problem, that what I feel is what you feel, though not at all, in some other profound way. I think we can… you can sort of talk generally about the forms of life: birth and death, and need for sustenance, and language, and breathing and all that. But nobody has the right to say how it is for anybody else. That's a luxury that no one has."
Clips include a stellar instance of Katy Bohinc's letters from Dear Alain and Paul Ebenkamp reading his poem beginning "Phony lamentations over public figures…"
The posthumous publication earlier this year of Michael Gizzi's Collected Poems (The Figures, 2015), edited by his friends Clark Coolidge and Craig Watson, was a revelation. "All of the poet's books are here," the copy reads, and I look at the poems with recognition — "I know this… I remember this…" — and with astonishment, that these, "plus more than 100 pages of unpublished poetry covering the years 1975-2010," amount to a tome that tips the scale in this grand manner. Alan Bernheimer and Kit Robinson organized this reading in tribute and memory of Michael, and in celebration of his work, while The Poetry Center sponsored the evening, along with The Green Arcade, favorite small bookstore in San Francisco, Patrick Marks, proprietor.
Michael's been gone for five years. I miss him. A wonderful man, wonderful to talk to, good humored, like they used to say. Generous. I think it was Alan Bernheimer who says it, during his reading, that if you'd ever spent a couple hours with Michael you came away with the sense you'd found a new best friend. It sounds, I know, like a bad cliché, and yet in this case it ain't. Or it's a good cliché. In a clinch. His work loves the peculiar, the off-pitch, the aslant.
HALF MEASURES
This being a democracy,
one should resemble a description,
and not a rumor to oneself.
Naïve to think relationships are equal.
Human nature is a public nuisance,
humanity a bully after all.
Are you experienced?
Does water experience the ocean?
Freedom's useless if you can't eat.
The world is enormous,
then you leave the house.
Michael Gizzi  (1949–2010)
Twenty-odd people read from his work, and nobody got up and left the room. Clips include Clark Coolidge indicating the works that he'll read, "not by Mike," rather several pieces (by Jack Kerouac, Herman Melville, and "Exile's Letter," Ezra Pound's 1915 translation of Li Po) that he'd previously read at a memorial for Michael Gizzi "in Jamestown, Rhode Island, June 25, 2011, the day that Mike's ashes were scattered into Narragansett Bay." Susan Coolidge — "My first poetry reading" — and Steve Dickison, reading "Off Minor," a poem dedicated to him and sent to him by Michael Gizzi in July 2010, from the "Last Poems" section of Collected Poems.
Written by, Steve Dickison
The post DocFilm and Poetry Center collaborate to Archive Readings appeared first on DocFilm Institute.