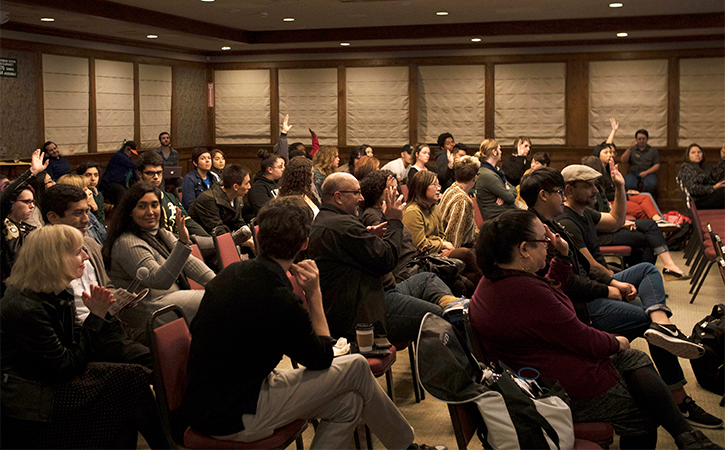 DocFilm is a major resource for SF State students to gain valuable experience working in and around expanded nonfiction media studies and practice.
Fellowships
As fellows, students have the opportunity to earn internship credits and gain valuable experience through DocFilm festivals and productions. Students can gain hands-on experience by collaborating with professional filmmakers on a wide range of DocFilm productions. In addition to the filmmaking process, most of our festival and community collaborations are operated by student fellows looking for event management experience. Students interested in receiving credit for diverse and meaningful projects should send an email to soumyaa@sfsu.edu
Poetry Center Archive - John Norton Fellowship
2017/18 Recipient - Joakim Ingerlund - Political Science Undergraduate, Graduated Fall 2018 
Spring 2019 Recipient - Amasha Lyons-Clark - Philosophy Undergraduate, Graduated Spring 2019
Spring 2019 Recipient - Molly Hirsch - French and Cinema Undergraduate 
Spring 2019 Recipient - Efosa Odiase - Creative Writing Undergraduate
Fall 2019 Recipient - Noah Namgoong - Cinema Undergraduate, Graduated Spring 2020
AY 2020 Recipient- Molly Hirsch (Senior Fellow) - Cinema Undergraduate, Graduation May 2022
AY 2021-22 Recipient - Jesus Rodriguez - BECA Undergraduate, Graduation May 2022
Each academic year the Institute selects a student for the John Norton Fellowship. This fellowship provides support to the student throughout the semester as they record and document the readings in the Poetry Center. All of the recordings are then added to the Poetry Center archives housed in DIVA, an open digital collections archive built and managed at San Francisco State University. 
Master Classes
Master classes allow film students to gain valuable insight and experiences from renowned filmmakers. Through master classes, renowned filmmakers share valuable insight and experiences specifically about the filmmaking process. Past presenters have included Jules Rosskam, Kelly Gallagher, Francis Ford Coppola, Ken Burns, Bertrand Tavernier, D.A. Pennebaker, Ricky Leacock, Jean-Pierre Jeunet, Christopher Hampton and Hubert Sauper all of whom shared invaluable insight into their inspirations, experiences, creative processes as well as advice on pertinent issues in filmmaking industry.
Guest Speakers
Guest speakers offer unique instructional opportunities for students and community members interested in cinema related topics.